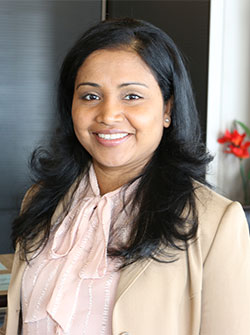 Dr. Therika Ekanayake OD.,B.Sc.
Dr. Therika Ekanayake graduated from the University of Western Ontario with a Bachelor of Medical Science and honors Biochemistry in 2002. She then pursued a Doctor of Optometry Degree at the State University of New York which was completed in 2009. She moved back to her home town of Ottawa in 2009 and started practicing as a licensed Optometrist in Ottawa South. Dr. Ekanayake has a special interest in pediatrics, Ocular Diseases including Eye-manifestation of Diabetes, Astigmatism correcting contact lenses and Therapeutics. She spends her leisure time with her children and husband.
A Full-Service Eye Clinic in Ottawa

As Optometrists
We are trained to recognize the effects that many health problems have on the eyes.
Likewise, we're trained to recognize the effects that various medications have on the eyes.
We are licensed to give medical treatment, eyewear prescriptions and prescription medications.

Our Reputation
We are the only clinic to have been ranked 100% 4 months consecutively on PSAT's run across North America (patient satisfaction).

Our Patients Include
C.A.S.
R.C.M.P.
D.N.D.
Professional athletes.
Foreign diplomats.
Other MDs
Police…O.P.P…Ottawa Police
Military
Ministry of Transport
etc.

Our Mandate
We are here because of our patients.
It is our patients who have put us here and who have made us what we are.
"We are here to help you…period!"
Serving 50000+ Patients
Patient reviews
I have been going to Dr.E for a few years now and every time I go to the clinic it's always a pleasant visit and I always feel like the communication is on par and I always have a warm welcome through
I found this eye clinic on Google. My experience was a very pleasant experience. Doctor E. Was Very personable, professional and ready to ask any questions I had. The person at the front desk is also
Dr. E's approach is thorough, her staff is very friendly and knowledgeable. My 7-year-old son is on the verge of having 20/20 eye sight because her expertise. I am grateful to have found this place. T